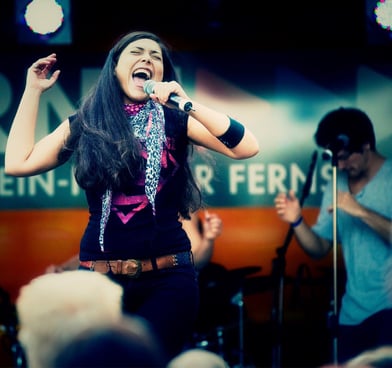 DANCE INTO MAY !
30.4. STADTPALAIS STUTTGART 20h
Winter, goodbye! Welcome, spring! April 30th is Walpurgis Night. The ancient custom of driving away the cold season and its ghosts on the night of May 1 has existed for centuries. Today, hardly anyone worries about ghosts any more, but in many countries there are still traditional celebrations, drinking and dancing into May on this night.
At the Stadtpalais in the heart of Stuttgart, you can also celebrate the beginning of May. From 8 p.m. to 1 a.m., the Orchestra of Cultures, which has enriched Stuttgart's music scene for more than 10 years now, invites you to an exuberant evening full of musical performances under the motto "Dance into May".
With African, Turkish and international Popmusik from the 80's and 90's will bring different bands the city palace to the trembling.
It starts with a real power woman, the passionate Funk & Soul singer Fatma Tazegül. With her humorous charm and an unmistakably powerful, deep but at the same time warm voice, she always manages to win over the audience.
On 30.04. you can experience her together with her band FATMA2SOUL live on stage at the Stadtpalais. In their shows, the group gives world-famous hits as well as lesser-known songs a completely new, individual touch. Especially touching, however, are the original compositions of the experienced singer, which will take you on an emotional journey into her soul.
Authentic West African sounds in a cauldron - that's what you can expect when Kandara Diebaté is on stage with his band. He is an offspring of the most influential griot family from Senegal. Griots are professional singers, musicians or poets and are also called storytellers of West Africa. In his music, Kandara combines traditional songs of the griots with his own songs and works of the band to a modern crossover of African and Afro-Caribbean rhythms that invite to dance.
Also performing that evening are Serkan Ates and his band with a balanced mix of covers and original compositions. The talented singer and instrumentalist combines a wide variety of oriental, Anatolian and western sounds in his works. The result: rousing Turkish pop music at its best.
In addition to the first-class musical entertainment, the physical well-being will of course be taken care of by the team of the Stuttgart Wagenhallen. The lively evening will be led by conductor Adrian Werum, who will also play the keys on the piano.
CAST:
VOCAL: Fatma2Soul, Kandara Diebate, Serkan Ates
CORA: Kandara Diebate
BASS: Chris Weigold, Cem Firat
DRUMS: Can Firat, Koray Cinar
KEYBOARDS: Max Truderrung, Adrian Werum, Hakan Karatas
GUITAR: Patrick Lemm
DIDGERIDOO: Frank Heinkel