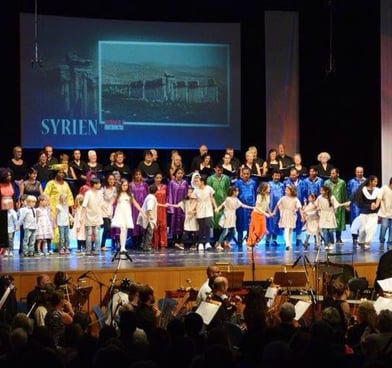 SYMPHONY OF OUR LIVES
Our first musical production.
Together with the citizens of Sindelfingen and refugees from Syria, Iraq & Afghanistan developed piece.
It describes the flight and perils in the years of the great refugee wave 2015 & 2016 with the happy arrival in Germany and the beginning of a new life.
Produced by Bürgerstiftung Sindelfingen and the Cultural Office with the kind support of Daimler AG.
CONTENTS:
Freedom - My Fatherland - Gente da Minha Terre - Mirjamba - Princess - Entre hierba - Mawtini - Helwa ya Baladi - Gel Gör Beni Ask - Guribitia and many more.
With: the project choir Sindelfingen
From the Stadthalle Sindelfingen